The Region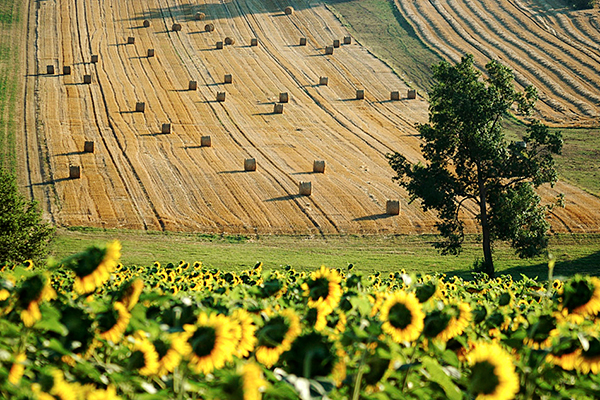 Gascony, the historic name on the Gers department is characterized by a rolling patchwork of sunflowers, corn, vineyards and wooded ridges strewn with mediaeval villages (bastides), towns, Belles Maisons and strongholds.
Bordered by the river Garonne in the north and the Pyrenees Mountains in the south. Famous for its Armagnac, foie gras, nature, wildlife, pure air and d'Artagnan's Musketeers. Want to know why we think you should buy a house in this region? Read our 10 reasons to buy a house in Gascony.
The Gers is sparsely populated, an undulating agricultural area where summer starts early and autumn is kept waiting. Rolling hills with far reaching views it also called "little Tuscany".
To drive between villages on the empty roads passing vines, sunflowers and maize whilst kites and buzzards circle above, it's an experience of which one never tires!
Although essentially a quiet rural area, a part of France where one goes back in time, there are many local activities to interest residents and visitors. They have various themes but the one constant is a meal usually in the open air.
The town of Condom became an ecclesiastical stronghold in the 9th Century surviving many changes of fortune in mediaeval times. In the 19th Century it was a leading center for the Armagnac trade owing to its navigable river connecting Bordeaux through the Garonne, which now attracts leisure craft. Today, with a population of some 7500, the town is enjoying renewed popularity with its fine lime stone buildings, gothic cathedral, chateaux, shops and restaurants.
The region is rich in culture, history and diversity and attracts many tourists mainly for bicycling, walking, horseback riding, fishing, hunting, and golf.
Cultural villages as La Romieu, Lectoure, Eauze, and Montreal are also close by with the the Atlantic Ocean and Pyrenees mountains just 90 minutes' drive away.