Wie zijn wij?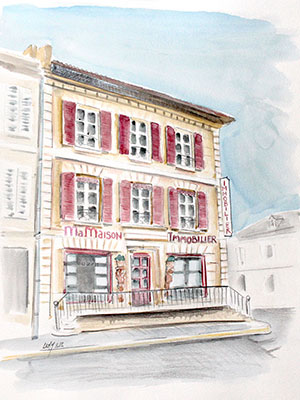 Wij zijn een familiebedrijf, een officieel gediplomeerd en geregistreerd makelaars kantoor, werkend in Zuid-West Frankrijk. Houder van een officiële "Carte professionnelle". Als u met ons in zee gaat weet u dat u volledig beschermd bent en dat de verkopers van eigendommen ons hun vertrouwen hebben gegeven hun pand te verkopen.
Wij vertrouwen erop dat u onze aanpak verfrissend, professioneel en onze service van het hoogste niveau vindt.
Neem geheel vrijblijvend
Dit e-mailadres wordt beveiligd tegen spambots. JavaScript dient ingeschakeld te zijn om het te bekijken.
met ons op, wij kijken ernaar uit om u van dienst te zijn.

ONZE MEDEWERKERS
Wij zijn een klein toegewijd team, iedereen heeft een specialisme. Lees hier meer over ons team.
Ma Maison Immobilier is uniek
Wij dringen aan op een realistisch prijsbeleid
Wij hebben verstand van onroerend goed, we hebben zelf gebouwd en verbouwd in Frankrijk.
We zijn bouw project managers geweest
We zijn internationaal georiënteerd
Wij zijn een familie bedrijf, onafhankelijk, gediplomeerd en geregistreerd
Wij zijn meertalig, dat vergemakkelijkt de aan- en verkoopprocedure voor u
De kwaliteit van onze service is ongeëvenaard
Transparant en gemakkelijk
Ons doel is om de aankoop van een woning in Gascogne zo transparant en eenvoudig mogelijk te maken door u alle hulp te geven die u nodig hebt bij aankomst in een "nieuw" land. Wij bieden u een unieke volledige ondersteuning van het begin tot het einde van het proces en zelfs verder of u nu koopt of verkoopt.
Ons "comfort pakket" houdt in: advies, begeleiding en vertaling bij de notaris, overzetten van water, gas en elektra en diverse andere werkzaamheden, en is vanzelfsprekend inbegrepen in de transactie.
Ons volledig gekwalificeerde team gaat u helpen en uw vragen beantwoorden in uw eigen taal mede om misverstanden te voorkomen en de procedure zo makkelijk en begrijpelijk mogelijk te maken.
Wij verkopen woningen in de Gers en delen van de omliggende departementen, samen bekend als Gascogne, maar wij zijn gespecialiseerd in onroerend goed in de gehele Gers en het zuiden van de Lot-et-Garonne.
We kijken ernaar uit u te verwelkomen in ons kantoor in Condom om al uw vragen te beantwoorden, u te helpen de regio te verkennen en met u onze huizenselectie in de Gers en omstreken door te nemen en zo uw droom te verwezenlijken.
Tot ziens!